Posted by Roch Hanmore on 1st Mar 2023
Based in Coe's Road Industrial Estate, Dundalk Fabrication & Coatings Ltd. is a specialist engineering company specialising in mild steel and stainless steel fabrication. Their expert team of Design Engineers, Project Managers and Fabricators provides turn key solutions from design concepts for commercial construction projects.
We asked their Site Manager - Eddie McArdle - about their work and why they decided to go with GeoMax surveying equipment and X-PAD field software.
What were the biggest challenges that your design and site teams faced?
When we first contacted Hitechniques in September 2022 our plan was to take on the site surveying and set out ourselves at a higher level. Our biggest challenge was getting information to the design team from the site and back again. We needed a more efficient way to share information about existing structures to be tied into new build, dimensions, heights of existing building elements.
Why choose Hitechniques ?
We wanted a system that would cover everything from surveying the site and getting the design drawn on the area available, to overlaying back on the ground. It had to be reliable and tailored to our specific needs. Hitechniques was able to cater for this.
We booked into training with Philip after a consultation with Roch on what we needed to achieve. They asked us questions on our upcoming projects and they came up with a tailor made plan to match our needs. The course was a very good introduction with theory and practical knowledge of the robotic total station and surveying.
From there, we hired the unit to trial. Once we knew it was the right unit for us, we purchased the full kit. We knew we'll be using it in a majority of our work and Roch went through the different options and provided case studies on long term and short term use. Buying outright made sense both logistically and financially.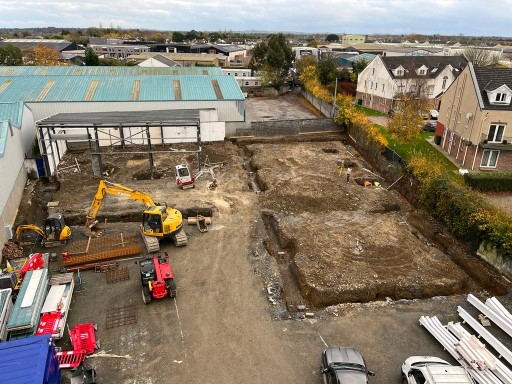 What instrument did you end up purchasing?
The Zoom 90 Robotic total station pack with X-PAD software was the setup recommended to us. It brought all we wanted into one programme and enabled us to use it on site and set out all our points from the designers AutoCAD file, which was crucial for us.
We were able to survey the site, record finish floor levels, survey existing structural steel members and their connections. We could relay all of this information back with speed and accuracy and trust our own drawings to set out the new elements.
The main benefit of having the Zoom 90 is that we can create our own workflow on site. Once we have the site control and our bearings set up we can revisit the site, set up using the control stations and pick up where we left off. The day of string lines and using tapes to set out our holding down bolts and building lines is now all wrapped up digitally in the Zoom 90 Robotic total station.
What would you tell people thinking of buying new surveying equipment?
We would highly recommend Hitechniques as a company where you can not only purchase state of the art equipment but to get back up and technical support from their experienced staff. Having that safety net makes a huge difference, especially at the beginning when you're still getting used to the new equipment and software.