Posted by Philip Hanrahan B.E., B.A., M.I.E.I. on 25th Oct 2021
With Halloween around the corner we wanted to share with you a very special customer story. Read on to see how Irish Paranormal Investigations used Flir thermal imaging camera during their latest haunted house investigation.
About Irish Paranormal Investigations
Irish Paranormal Investigations have explored from the oldest mansion in Manhattan to some of Ireland's most haunted locations including Spike Island, Malahide Castle and most recently, Dundrum House in County Tipperary.
Realizing they needed a thermal imaging camera for the centuries old location with no electricity and so much to cover, they reached out to us and we were delighted to help!
With our top of the range FLIR E60 to hand, here is how they got on!
Ghost hunting with thermal imaging camera
"We didn't realize how important the FLIR E60 would be to our investigation! There is dark and then there is 18thcentury Dundrum House! As paranormal investigators we need to use equipment as much to debunk and set baselines as we do to look for signs of a haunting.
All too often in the dark, a breeze or temperature drop can make you think something is happening, but with the thermal imaging camera, we were able to see if there were broken pains of glass letting in a breeze, if the cold spots were by the open fireplaces and if there were gaps in skirting or electrical signatures in old wiring and light fittings.
Of course ultimately, we are looking for something unusual in the thermal imaging camera, or an additional confirmation to something we have seen or heard already. At Dundrum House we were not disappointed!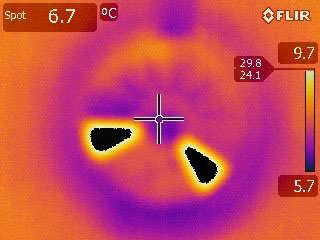 Once our initial sweep for temperature changes took place, we begin to investigate Dundrum House, dating back to the 1730s and home to a nasty master who was pivotal in the execution of a local priest, Father Nicholas Sheehy. Thomas Maude was responsible for the jury selection in the trial of Father Sheehy, who was accused of assisting in a murder, even though there was no body – retaliation for his support of those against the Penal Laws.
At the time of his execution, Father Sheehy cursed Maude to damnation in hell, but not before he fell into madness and despair for what he had done. Every member of the jury succumbed to a horrific death and Thomas Maude locked himself away, growing more insane as each year passed, screaming that he could see Father Sheehy as he was slowly being dragged into hell.
After the last of the Maude family left the property, it was taken over by an order of nuns in 1909 and the property became an industrial school before being turned into a hotel. While the golf resort and restaurant continue to flourish, Dundrum House itself has been dormant since a fire a few years ago.
Our investigation saw us chasing hotspots on the thermal imaging camera, only for us to reach the location and be subjected to haunting groans. Our motion sensor seemed to be active when asking questions directly to Thomas Maude about his destruction of Father Sheehy – validated as the FLIR showed the device lighting up like a firework!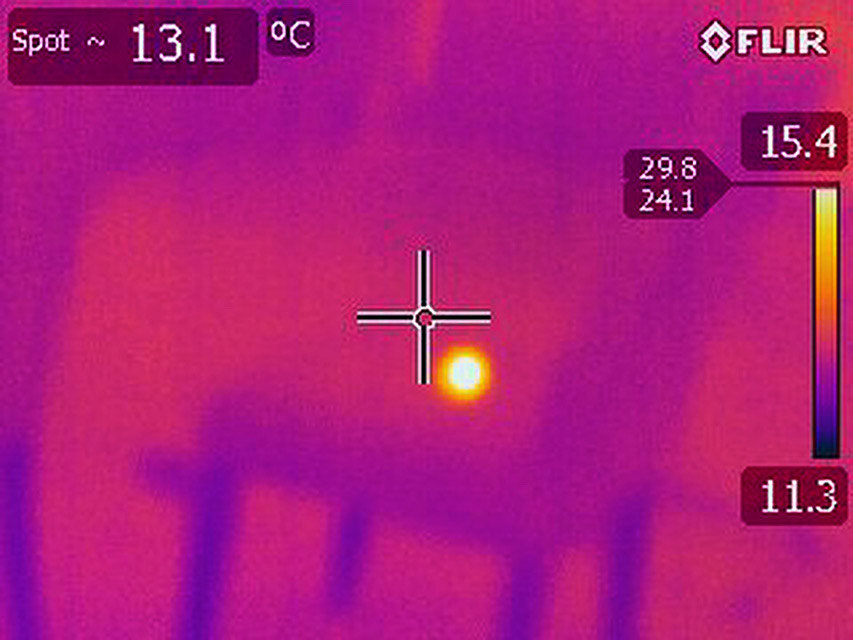 As we heard footsteps above us, we headed for the stairs and the FLIR showed an image of an arm or outstretched hand on the banister, a usual sight for an investigator, as one would see our images reflected in windows and mirrors - except for the fact we hadn't reached the staircase before this point and no one had grabbed that handrail for months, if not years…"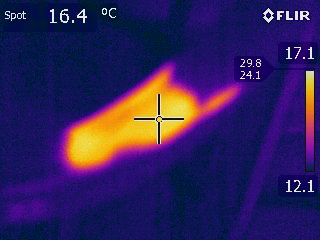 ---
This is only a part of the story that Ann shared with us. If you'd like to learn more about what they found in that house, follow Irish Paranormal Investigation on their Facebook and Instagram. There's even more creepy stories and photos to see!
Happy Halloween!