Posted by Hitechniques Team on 16th Jun 2021
At Hitechniques we are committed to sharing our knowledge and expertise. We do it by organising surveying trainings and offering technical support to our customers. Recently we also partnered with Niamh O'Donoghue - a PhD student from Cork - who's doing research into erosion and climate change.
Niamh came to us looking to rent a GNSS Receiver. Roch helped her pick the best instrument for her project and provided training to help her get started.
Niamh is working with the GeoMax Zenith35 Pro and X-PAD software running on a Samsung Galaxy Tab Active 2 tablet to measure the beach slope and shore line position of the coast.
Read below to learn more about Niamh's story as she answers a few questions about her project and why she decided to reach out to us.
1. Why did you choose Hitechniques as your service provider?
Niamh: I emailed a number of service providers I found online to rent a GNSS rover. Hitechniques responded immediately and also their daily and weekly quote for equipment rental was considerably cheaper than the competitors. They also offered a postal service of the equipment to my house (next day delivery). And for me to return it, it came with a return label which I just stuck on and returned to the post office. This was far easier than other companies who did not offer the delivery service, so I would have had to collect and return it myself which would be time consuming. Hitechniques employees have all been really helpful; I have been in touch with Philip, Jimmy, Roch and Dariusz so far and they are very personable, going above and beyond. They were really interested in my PhD project and were able to offer me the equipment at a discounted rate over the course of 1-2 years. This allows me to keep the equipment all the time rather than having to return it after each survey. This means I can plan a survey anytime and not worry if the equipment is available or not and it ensures consistency as I am using the same device throughout the project.
2. What problem did our product solve for you?
Niamh: It stopped the need of having to connect the tablet by usb to my computer when I want to export the points, as I can simply export them by email on the tablet. The tablet screen is matte so I can still see the screen even under bright sun. As I am new to this kind of technology, the user-friendliness helped someone like me get the hang of it quickly. It enables me to do surveys by myself which is useful as my supervisors are based in Cork and I am in Dublin, and they cannot be in the field with me at the moment with the travel restrictions. The product always stays connected to the internet and the satellite so I have not encountered issues yet on not being able to get a signal etc. Typically, an old method of measuring beach slopes, is a manual method using emery poles and a level, requiring 3 people which is more inaccurate and time consuming. There is also a total station but that requires two people. The Geomax GNSS receiver with X-PAD software allows me to sample alone, and it is extremely accurate and less time consuming.
3. Which features of X-PAD are the most valuable to you?
Niamh: It is so helpful that the X-PAD comes on the Samsung tablet. It makes surveying in the field so quick because it is a touch screen so I can easily measure and delete or edit points. It allows me to take photos for each survey I'm doing. On the 'Jobs' page, there is a list of all my surveys along with the photo of the survey location. This is helpful as it helps me visually separate one survey from the next instead of just being the title. The software is really user friendly so even when I'm not certain of something, it doesn't take long to figure it out by navigating through the different icons on the home screen. My surveys are based on beaches. The software enables me to put a basemap on the screen while I'm recording points so I can see a satellite view of where I am surveying. This is useful as it helps me identify where I am on the beach and my surroundings. You can export the DXF files in a matter of seconds to your email address. This means I can export them immediately in the field, which saves me having to connect a usb/ cable to my computer. Compared to other software I have used, the X-pad has the fastest set-up and connects to the GNSS rover in a matter of seconds to begin sampling, even in remote locations. This is important to me since I am sampling on beaches where I would worry about losing connection.
4. What are the challenges you encountered when working on your project?
Niamh: My first time surveying, I was on a beach and not fully used to the equipment. There was a connection error which Dariusz sorted with me over the phone. He also took the time to advise me on how best to survey as I was not sure if i was doing it correctly. The challenges have come more from the fact that it's my first time doing these surveys so I can be uncertain at times if I'm using the best survey method and if the method is reliable and repeatable but this is more an issue to do with human choice opposed to the equipment. So far the weather has been dry while surveying and the beaches have been quiet enough but I expect challenges will come during summer when people are sitting on the beach in the middle of my survey line. Another challenge would be that a PhD can be quite isolating, even more so with the restrictions and working from home. So there is less face to face communication. For example, I can't just walk into the supervisor's office to ask questions now or other students that shared the office space. Although things can be discussed over the phone and video call, I find it is much easier to do in person. So I suppose it has put more responsibility on me because I have done the first few surveys myself rather than with someone more knowledgeable watching over it.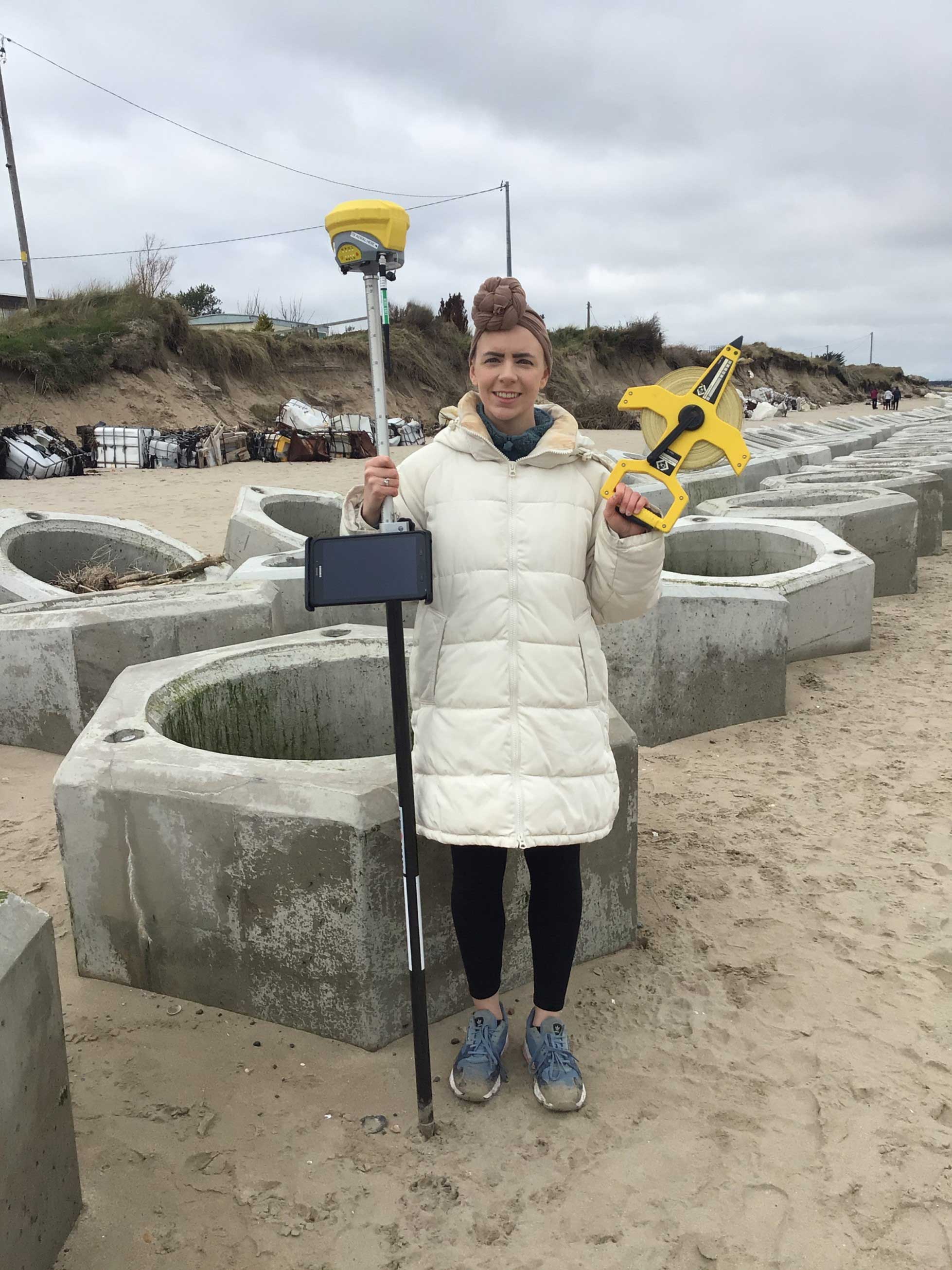 5. How has your experience with Hitechniques been?
Niamh: My experience has been really good so far. There is never a delay when I have questions for them. Once we decided on what equipment to rent, Roch hand delivered it very quickly and went through how to set it up and practice all the functions, which made it less daunting. He really took the time to explain it to me and answer my questions. And Dariusz has been very helpful in the 2-3 times I called him for technical support. He was available to discuss and guide me through the issue immediately. This is so helpful as you never know what problem you may encounter while surveying and it's great to have someone respond immediately rather than the next day.
6. How likely is it that you would recommend us to a friend or colleague?
Niamh: I am 100% likely to recommend Hitechniques to friends, colleagues and other students who would need equipment. Not only do they provide the rental of top quality devices and latest software, they also are very hands on, ready to take a phone call if you have a query while surveying. Roch spent about 3 hours teaching me how to use the equipment. He travelled to my location which saved me travelling elsewhere. I would recommend them to anyone who needs equipment for their projects. Once you explain your project, they will recommend what device would be best for you.
---
Hitechniques' slogan is "Your partner in measurement technology" because not only are we teaching customers to use surveying and measuring equipment every day, but we are continually learning from customers different ways in which GNSS Rovers and Total Stations can be used in the field.
Niamh's experience in using the Geomax GNSS Rover shows that even inexperienced users can use the equipment to record valuable research-based data that will help scientific understanding of the way our planet works. However, you don't have to be a scientist to use the equipment; hundreds or engineers, foremen, site operatives are measuring, surveying and setting out with our equipment every day.
Call us at 01 257 2323 to see how we can help you to become more efficient and do things you haven't tried before.