Posted by Roch Hanmore on 18th May 2021
As we work not only with large companies but also a smaller ones and even individuals, we are often asked about whether someone can or cannot set out their own housing development. Today we want to answer that question and explain what you need in order to tackle such a task.
Can I set out my housing development?
The short answer is yes, you can indeed set out your own house, if you feel up to the task.
In order to do that, though, you'll need four fundamentals:
AutoCAD,
georeferenced AutoCAD drawing (including legal boundaries, house coordinates and roadways),
setting out equipment,
and finally - knowledge and training on said equipment.
Let's take a closer look at each of these elements.
AutoCAD
So what exactly is AutoCAD?
AutoCAD is a computer-aided design software developed by the company Autodesk (hence the name AutoCAD). It allows you to draw and edit digital 2D and 3D designs more quickly and easily than you could by hand. The files can be saved and stored on your computer or in the cloud, so they can be accessed from anywhere at any time.
AutoCAD file format is either in DXF (.dxf) or DWG (.dwg).
AutoCAD was once an expensive package bought in a particular year, AutoCAD 2013 for example. Retailing at around €2,500 you bought it with the intent of updating in 5 years, which was not feasible for some small companies with only one user.
Annual subscriptions have improved this. Now you can buy the latest every year for a 1/5 of the price and always have the latest, most up to date version, meaning there is no issues with i.e. opening a file due to incompatibility.
Using AutoCAD in Hitechniques, we can point you in the right direction and guide you to the right place.
Georeferenced drawing
Before I explain what coordinated drawing is, let's go back to basics and talk about what coordinates are.
Coordinates are the numbers describing the position of the particular point on the map. There are 2 coordinates - Easting and Northing. Sometimes, when the level is important, they are followed by a third coordinate - Height. Easting coordinates are listed first followed by Northing - Easy way to remember is it's in alphabetical order (ENZ). Coordinates are described by the coordinates system.
Generally, there are 2 coordinates systems in use in Ireland.
IG (Irish Grid or National Grid), superseded in 2001 by
ITM (Irish Transverse Mercator)
The official system is Irish Transverse Mercator (ITM) which is our local coordinates starting at point 500000,500000 off the coast of Kerry and increasing in increments of 1 m northerly and easterly and every millimetre in between. ITM is more compatible with satellite positioning used for precise surveying and minimise mapping distortions. (https://www.osi.ie/wp-content/uploads/2015/07/Survey-Ireland-2007-ITM-Tutorial1.pdf)
---
Figure 1: Irish Grid Coordinates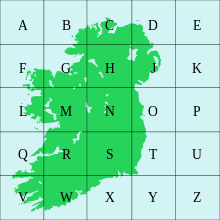 Source: Wikipedia
---
Some local authorities still use Irish Grid system, however it hasn't been recommended by Ordnance Survey Ireland since 2001 (Gas Networks Ireland, some local offices of Irish Water, County Councils).
---
Figure 2: Irish ITM Coordinates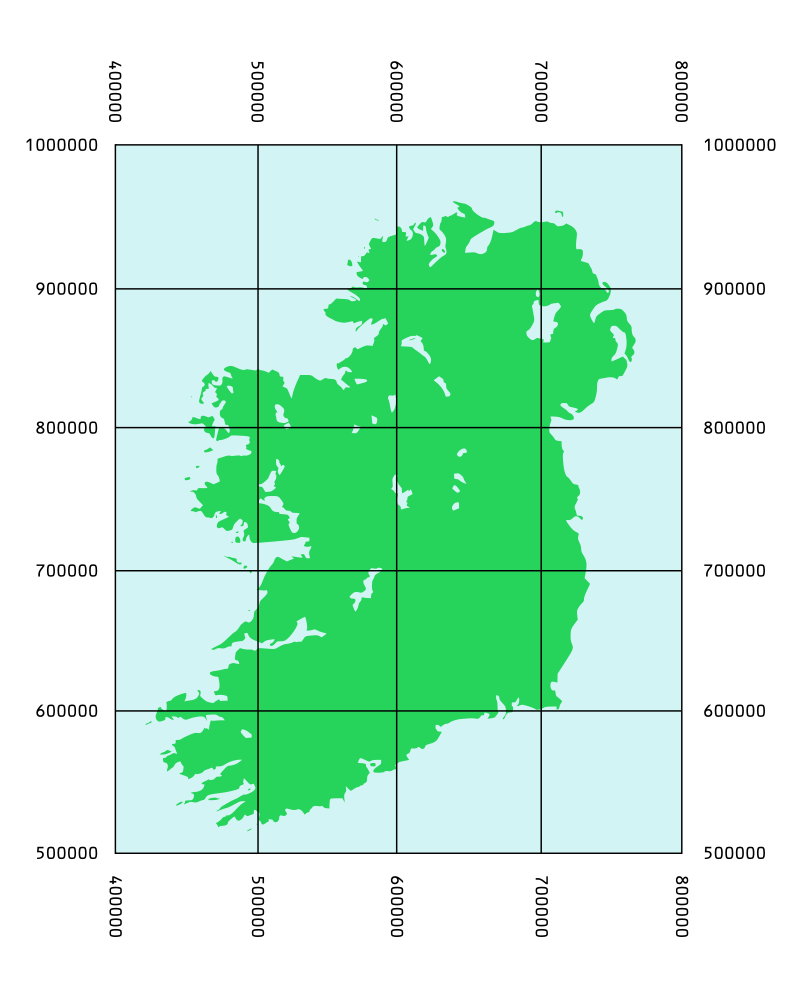 Source: Wikipedia
---
What if you have a house drawing but don't know how to put it on site layout?
A digital map or AutoCAD survey of the site needs to be acquired either through past surveys or purchased online. A site layout of all the units and roadways, footpaths and car parking bays, etc. will need to be considered, when adjusting the position of the house layout. Ideally this should be done by the professional.
How do you get a georeferenced drawing?
Research into the site development and professionals involved, will have surveys from past projects or planning applications and these are going to be more detailed and more accurate
Digital Maps can be purchased online from https://www.osi.ie/products/professional-mapping/
These maps are sometimes not that accurate but give a good indication of site boundaries and surround lands and roadways. Accuracy of these can be sometimes up to 1.5m out of position and must always be checked and referenced. Again, ask a professional for help if needed).
Setting out equipment
Now that you have your coordinated drawing ready, it's time to do the actual setting out.
You can be tempted to do the setting out using one of the simple, traditional methods but we strongly encourage you to invest in a modern survey equipment and software. Accurate setting out is a fundamental part of the construction works, and errors can be very expensive and time consuming to correct.

When your equipment is ready, your drawing can be uploaded to a portable data logger and then with the help of GNSS rover or a total station, you can precisely set out your design using marking stakes, flags or nails depending on your site.
Surveying training
Modern surveying instruments and software are designed with the end user in mind, so there is a lot of pressure on making them as easy-to-use as possible. Once you have a general idea on how things work and some hands-on training you should be able to perform a simple survey or set out a building without any issues.
If you'd like to start using GNSS rover or a total station but have no previous experience, you can sign up for one of our surveying training courses. They're designed with beginners in mind and are a great way to get into the world of construction surveying.
---
Need help choosing the right instrument for you? Get in touch with us to schedule a consultation and/or a free demo on your chosen unit. Call 01 257 2323 or email [email protected]