Posted by Roch Hanmore on 11th Nov 2020
Sales versus Hire and how it applies to you
We are often asked, what is the best option between choosing to hire equipment or purchasing outright. This is a question answered by contribution by both parties and we can help you make the decision, which is suitable for your workflow and business model.
From a live roadmap, the advice as simple as it sounds, is to buy for the long term with a constant workload and hire for the short term at the peaks of demand.
When you peel it back, you start to figure out the best direction to go with based on your own circumstances and here are a few things to consider when making the decision:
1. Financial situation
Financially you might be set up for hire and it works best if you do not always need it. If planning and look-ahead's are your thing, you can plan for hire and availability will not be a problem.
On the other hand, you should always plan for hire in the short term and purchase for long term as you can offset costs over a fixed period of say 5 years and attribute the costs over all the total number of projects. This gives a good spread of price per project. On the knowledge of the overall cost per project, you can then price a project for tendering.
2. Cost and Time Efficiency
Efficiency is mainly to do with how you are using the instrument enough and getting value for money over this period. I have calculated a 2 week per month period for a month at hire rates to show you the difference in costs and time in possession of the GNSS Rovers.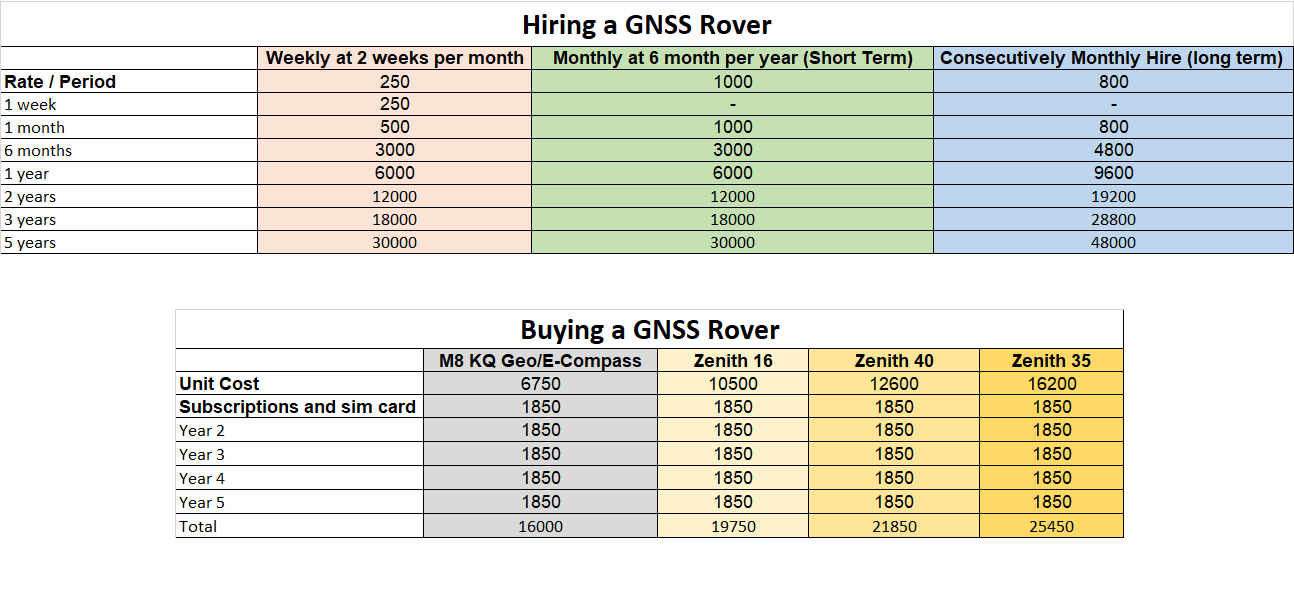 *All prices exclusive of VAT
**Subscriptions based on 600 hours per year usage
This is also a forecast for how much work you will be undertaking and how much more you can take on to expand your efficiency in surveying.
3. Support
One of the common questions is regarding the level of support we offer you as a customer.
"Will we get the same level of support once we buy the instrument as the level of support when we hire?"
We'd like to assure you; we are as interested in our customers in purchase as in hire. All our customers get call backs and full support regardless of the system used. Our 360° Support was designed to solve all your issues quickly and efficiently.
4. Knowledge
The training for the use of the instrument will have to be complete in hire and sale so no difference here, only that once you learn on one instrument you can only improve on the same instrument. We also notice our trainees are more comfortable using the same equipment they were trained on.
Conclusions
With pros and cons to both hiring and buying, there are many factors to consider and it's best to look carefully at your company's current situation as well as the type of equipment you need.
---
At Hitechniques we offer both Hire and Sales services and create tailored solutions for construction companies as well as individuals. If you need advice or would like to discuss your options, get in touch with us at info@hitechniques.ie or call 01 257 2323.